CHANGWON, Apr. 1 (Korea Bizwire) — The 57th Jinhae Gunhangjae (Jinhae Naval Port Festival), South Korea's largest cherry blossom festival, begins today.
Changwon, located in South Gyeongsang Province, was already bustling with tourists on March 31, who had come to enjoy the mesmerizing view of some 360,000 fully-bloomed cherry blossom trees.
In particular, the view of Yeojwacheon Stream, decorated by cherry blossoms, was a breathtaking sight for many tourists.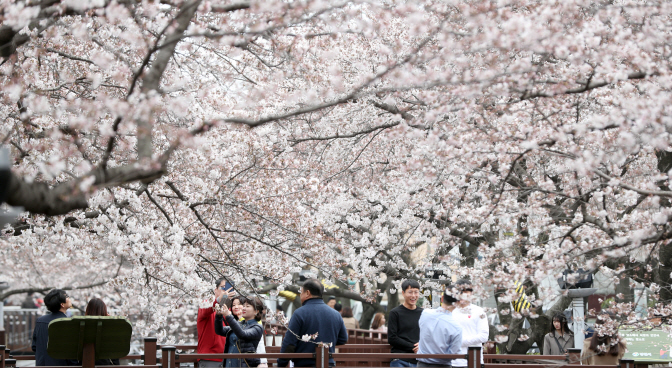 The stream of cherry blossoms continued past Gyeoghwa Station, Jungwon Rotary, Changwon Naesumyeon Eco Park, and Jaehwangsan Park.
Visitors came with families and friends to take photos and enjoy the festival.
The Republic of Korea Naval Academy and Jinhae Naval Base were also opened to the public on Saturday to celebrate the upcoming festival.
Image Credit: Yonhap / Jinhae District Office / photonews@koreabizwire.com