BUSAN, Jan. 25 (Korea Bizwire) — The Drone Show Korea 2019 began on Thursday at BEXCO in Haeundae, Busan.
Hosted by the city of Busan, jointly with Ministry of Trade, Industry and Energy and Ministry of Science and ICT, Asia's largest drone show has gathered 110 companies to showcase cutting-edge drones and related products.
Under the slogan, 'Connected by Drone', the show emphasizes the role of drones in connecting various industries as the world enters the Fourth Industrial Revolution.
The show will continue over the next four days to showcase various cases of industrial cooperation led by Korean Air Lines Co., UCON Systems, Inc., Fine ADS Inc., PNU Drone Consortium, NES&TEC Co., SAMCO Inc., and other companies.
At the show, SK Telecom Co. announced plans to release the T-Live Caster that allows users to receive real-time video footage taken by drone through mobile applications, using a 5G network.
Doosan Mobility Innovation Inc. also showcased prototype drones that use hydrogen fuel batteries to significantly extend flying time.
This Is Engineering Co., a South Korean startup firm that is developing the world's first drone that can be piloted using only one's hand, introduced a new model at the exhibition.
The Korea Aeronautics Research Institute's security drones for use in natural disasters, as well as the Electronics and Telecommunications Research Institute's transport drones were also presented at the show.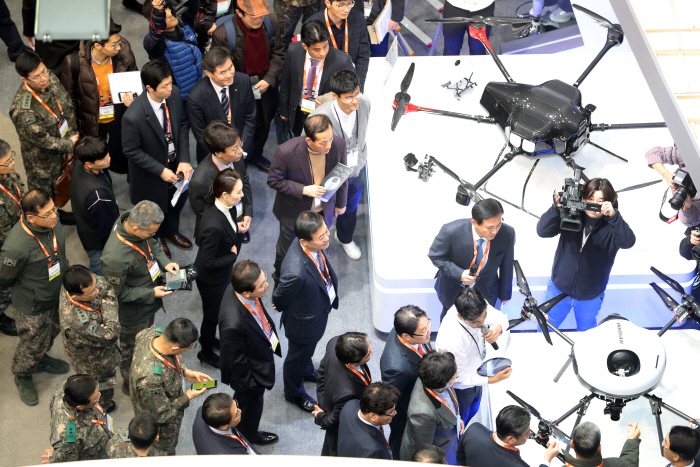 Image Credit: Yonhap / photonews@koreabizwire.com