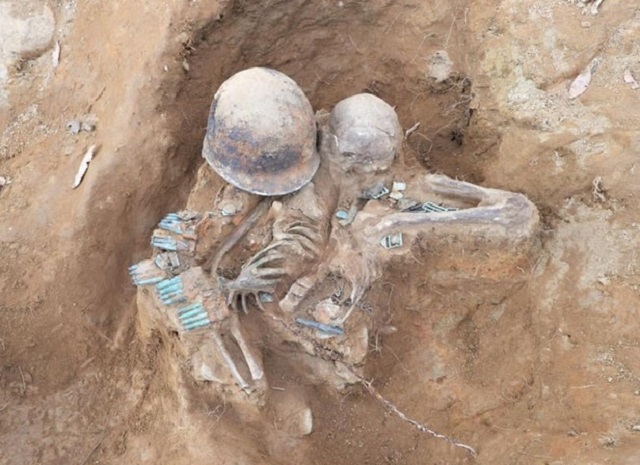 SEOUL, Nov. 26 (Korea Bizwire) — The remains of an Army private who fought at White Horse Ridge in Cheorwon, Gangwon Province during the 1950-53 Korean War were found in a defense posture to fend off enemy mortar fire.
On Oct. 28, the remains of a human body assumed to be a fallen soldier during the war were found in a trench on top of White Horse Ridge located inside the Demilitarized Zone (DMZ) separating the two Koreas.
Bodies found in trenches are mostly fully intact.
However, the newly excavated remains were missing the lower part of the body with no more than a helmet with a bullet hole, a skull and ribs, alluding to the fierce battle that once took place there.
A private's military insignia found on the old military uniform that the soldier was wearing shows the realities of the newly deployed war heroes during the Korean War, the defense ministry said.
White Horse Ridge is one of the areas where the most casualties were reported during the war.
Image Credit: Ministry of National Defense / photonews@koreabizwire.com