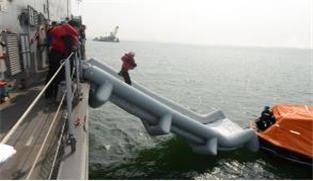 SEOUL, Dec 25 (Korea Bizwire) – A sliding device to help navy sailors to evacuate quickly from a sinking ship has been developed by the Navy. The Korean Ministry of Defense said on December 24 that the evacuation slide developed by the ROK Navy Second Fleet won the best prize for its Lean Six Sigma performance evaluation for the year. 
Chung Jong-dae, machinist in the ship maintenance bay of the Second Naval Fleet and the principal inventor for the device, said that he had an idea after the ferry sinking tragedy that the emergency sliding device used for aircraft can be utilized for naval ships as well so that the sailors can escape out of the burning or sinking ship without the fear of drowning. 
The six development team members modified the slide in ways it can be unfolded both automatically and manually. In angles for which the ship will sink immediately, the slide can adjust its slope by itself. After sailors use the slide to evacuate, the slide then turns into a lifeboat within 12-20 seconds.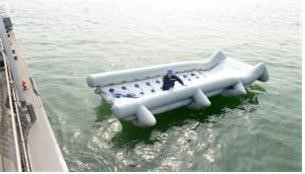 A Ministry of Defense official said, "At the development cost of 6.5 million won, the ingenious device may potentially be able to save numerous lives. It can be easily applicable to civilian boats." 
This year, the ministry saved up to 92 billion won of budget by implementing 107 Lean Six Sigma projects. In addition to the Navy's emergency evacuation slide, the ministry selected five other projects including a solution to prevent engine problems in Russian training aircraft T-103, efficiency improvement in Army supplies asset management, gunnery exercise performance improvement, tool asset management optimization, and quality control in "White Shark" torpedo maintenance.
By Sean Chung (schung10@koreabizwire.com)