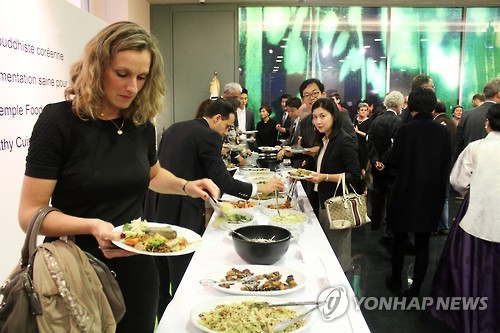 SEOUL, Oct. 7 (Korea Bizwire) – A special event has been held in Paris, in which Korean traditional temple foods were introduced to the ambassadors of different countries.
Under the theme 'Korea's Temple Food, Healthy Cuisine of the Globe', one of the most prestigious experts in Korean temple food, monk Sunjae, cooked for the guests with soy sauce, doenjang (soybean paste) and gochujang (red pepper paste) she brought from home.
Starting with one of the most common temple food dishes, rice steamed in lotus leaves, various ingredients boiled in traditional spices, fried vegetables, kimchi, rice cakes and lotus leaf tea were served.
Monk Sunjae emphasized that temple food is prepared in consideration of nature and with respect for all living things. Also, by using seasonal ingredients, cooking with Korean traditional spices will clear the body and soul of the one who eats the temple food.
Chef Eric Trochon, Master at the Ecole Ferrandi cooking institute, praised the food. "Since Korean temple food uses a lot of vegetables, the taste is not too provocative and it is good for our health. This could be the healthy 'slow food' that we were looking for."
Image Credit: Yonhap / photonews@koreabizwire.com