SEOUL, Oct. 14 (Korea Bizwire) – As South Korea's "Fin-tech" industry seems to be a next big-thing in the national financial and mobile industry, simple and easy mobile payment solutions are being introduced in a row.
And LG UPlus, South Korea's No.3 wireless carrier, also jumps into the fray, betting conventional authentication systems using pin numbers is doomed to change.
LG UPlus announced on October 13 that it completed a beta test with "Dementor Graphic Authentication" and will apply it to "Paynow," the carrier's proprietary online payment service, from the next day.
"Graphical Authentication" or Graphical identification and authentication, is much intelligent and sophisticated, compared with the conventional number- or character-based digital identification solution since this system requires a combination of ever changing images — location and content — ensuring a much stronger security. Given the varying patterns created from  changing images, the probability of being hacked — in theory — is one of 10 million occurrences.
As for users, to be authenticated, they should be able to combine the pre-selected four graphic images in a row. If the graphic images cannot be identified in a constantly changing image, then the site is considered as an abnormal or fake one so the users can completely keep it at bay from phishing or pharming.
To tap the graphical identification in "Paynow" payment system, users only need to  change a log-in method for authorization process in the application.
"It is not handy to type in more than 10 digit passwords for the authentication — recently introduced system to strengthen security to block personal information breach," said Baek Young-nahn, vice president of the e-commerce unit at LG Uplus, "the new authentication is not only convenient but highly secure."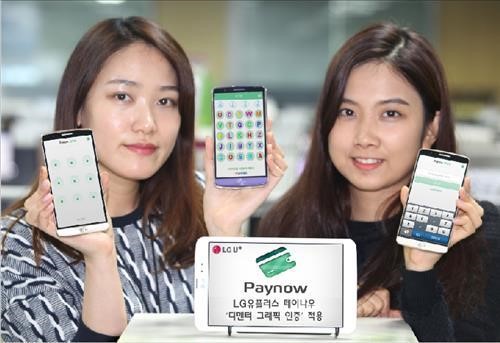 By Eugene Yu (eugene@koreabizwire.com)