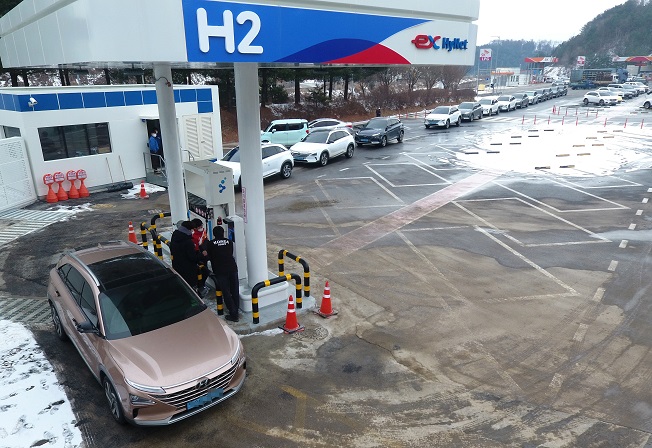 CHUNCHEON, Jan. 22 (Korea Bizwire) — The city of Chuncheon, Gangwon Province completed a 3 billion won (US$2.7 million) joint project with the Ministry of Land, Infrastructure and Transport and Korea Expressway Corp. to build a hydrogen charging station at a service area on an expressway with trial operations scheduled to begin on Thursday.
During the trial period, the hydrogen station will offer 2 kilograms of free hydrogen to all hydrogen fuel-cell cars from 11 a.m. to 4 p.m., enough to cover a distance of 200 kilometers.
From the first day of the trial, hydrogen fuel-cell vehicles have lined up, stretching across the service area to block even the main entrance.
Previously, some 300 hydrogen fuel-cell car drivers in the Chuncheon area had to go all the way to Seoul, Gyeonggi Province, or even Samcheok to refill. The new hydrogen station is capable of refilling five vehicles per hour.
The station plans to operate from 8 a.m. to 10 p.m. all year round. It will take around six minutes for a full refill, which is enough to cover a distance of 600 kilometers.
Image Credit: Yonhap / photonews@koreabizwire.com