DENVER, Nov. 14 (Korea Bizwire) — Sundance Energy Australia Limited (ASX:SEA) (NASDAQ:SNDE) ("Sundance" or the "Company"), a U.S. onshore oil and gas exploration and production company focused in the Eagle Ford and Greater Anadarko Basin, reported its third quarter 2016 financial and operations results. 
Third Quarter 2016 Financial Results
Adjusted EBITDAX of $11.9 million, or 68.2 percent of Adjusted EBITDAX Margin.

Cash operating costs continued to decline from $14.17/Boe for the year ended 31 December 2015 to $11.40/Boe for the quarter. 

Successfully closed a share placement that generated $64 million (net of fees), used for its bolt-on Eagle Ford acquisition and acceleration of development. 

As of September 30, 2016, the Company's oil hedges covered a total of 1.8 million bbls through 2019 with a weighted average floor of $49.66 and ceiling of $57.99.  

Implemented an American Depository Receipt (ADR) program trading on NASDAQ under the symbol SNDE.
Third Quarter 2016 Operational Highlights
Net oil, natural gas and natural gas liquids ("NGLs") production, including flared gas, totaled 564,522 Boe, or 6,136 Boe/d for the third quarter 2016, which met the Company's third quarter production guidance of 6,000-6,500 Boe/d.

Brought 6 gross (5.7 net) Sundance-operated Eagle Ford wells into production during the quarter, including 3.0 gross (3.0 net) and 3.0 gross (2.7 net) wells in Dimmit and McMullen counties, respectively.

Had initial production from 11 gross (3.6 net) non-operated Eagle Ford wells in McMullen County during the quarter.

The Company closed on its previously announced acquisition of 5,050 acres in McMullen County, Texas prospective for the Eagle Ford with a purchase price of $15.4 million. The transaction included incremental working interests in 20 gross (8.0 net) Sundance-operated producing wells and 6 gross (1.1 net) non-operated producing wells, generating approximately 600 boe/d. 

Through its previously announced partnership with Schlumberger Limited, the Company refractured 5 gross (4.7 net) Sundance-operated Eagle Ford wells during the quarter. 

Brought 2 gross (1.8 net) Sundance-operated Greater Anadarko Basin (Oklahoma) wells into production during the quarter.
Q3 2016 Operations Update
Grace Ford, COO of Sundance, commented "During the third quarter our operated capital expenditures increased as we completed wells in our primary focus areas of McMullen, Atascosa and Dimmit Counties.  Two wells were brought into production on our Tyler Ranch lease in McMullen County and were completed utilizing our Gen2 design with ~2,400 pounds of proppant per foot and 200 foot stage spacing.  Early production data is exhibiting rates above our type curve, both for oil volume and cumulative BOE production.  In Atascosa County we completed one well on our Peeler Ranch lease and it too is demonstrating increased production rates above our type curve.  This was the first well on this lease drilled and completed by Sundance.  Changes in the design compared to legacy wells included a focus on drilling in zone, tighter perforation spacing, an increase in proppant per foot, higher pump rates, and a change in proppant selection.  In Dimmit County we completed three wells.  Our completion improvements focused on maximizing perforation efficiency utilizing diversion techniques and executing controlled flow-back.  Preliminary micro-seismic interpretation from one of our Dimmit County completions is showing improvements in reservoir contact with recent changes in design.  Early production is on, or slightly above the type curve, but we believe that the wells have yet to reach their peak oil production.  Additionally we refraced five wells in McMullen County in accordance with our Schlumberger agreement.  All five wells are in very early stages of controlled flow back.  We will continue to monitor these aforementioned results and, once we have sufficient data, we will apply the findings to our 2017 development plans."
CEO Commentary
"The third quarter of 2016 represents a return to activity levels that we believe will provide substantial growth in production and cash flow for Sundance for the remainder of 2016 and into 2017", stated Eric McCrady, CEO of Sundance. "Among our goals as we increased capital expenditures this year was to reduce our cash costs on a per BOE basis and we are pleased with the resulting decrease in lease operating expenses and G&A by 38% and 32% respectively compared to the year ago period.  We continued expanding our footprint in the Eagle Ford and the Company now has nearly 46,000 net acres in the play compared to just over 7,000 acres when we entered the basin in 2013.  Another goal of management is to increase the profile, market liquidity and awareness among North American based investors in the Company.  In September we implemented an ADR listing on NASDAQ under the symbol SNDE to provide a US dollar based vehicle for interested parties to consider for investment.  We also retained Jon Kruljac, who has over 30 years of experience in investor outreach and capital markets, to assist the Company in garnering attention from institutional investors.  These efforts have already resulted in three published research reports with buy recommendations on SNDE from US based investment banking firms.  We are embarking on a robust marketing program over the next twelve months to further the awareness of the Company and we will begin hosting quarterly conference calls in 2017 to provide consistent and timely updates regarding the Company's progress and results congruent with other US reporting companies.  We will be providing production and capital expenditure guidance for Q4 of 2016 and the full year 2017 in a press release in December."
The following tables present certain production, per unit metrics and Adjusted EBITDAX that compare results of the corresponding quarterly reporting periods: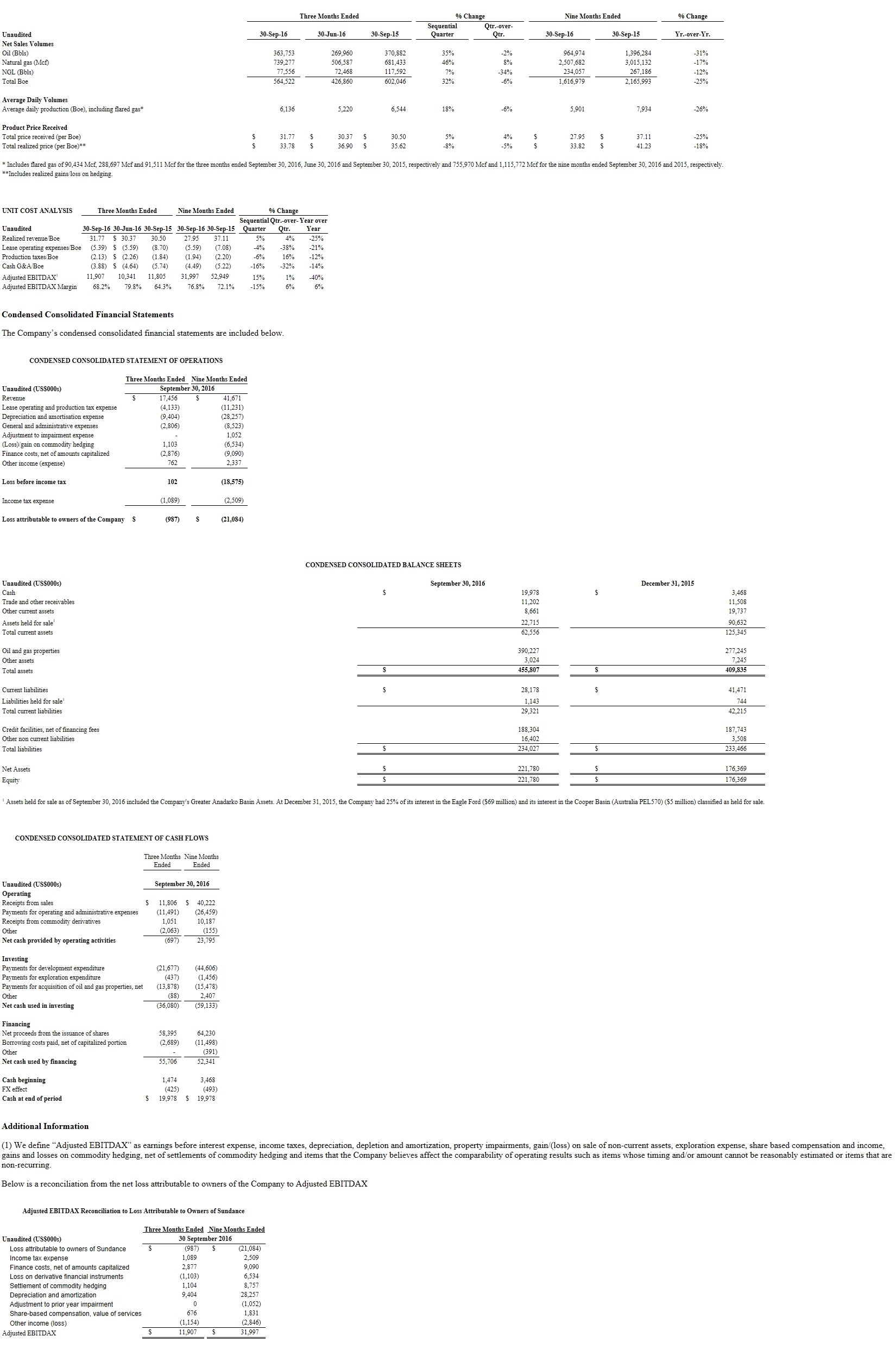 The Company reports under International Financial Reporting Standards (IFRS).   All amounts are reported in US dollars unless otherwise noted. 
The Company's full Unaudited Activities Report as filed with the Australian Securities Exchange (ASX) and Securities and Exchange Commission on Form 6-K for the Quarter Ended September 30, 2016 can be found at www.sundanceenergy.net. 
The Company's 2015 Annual Report as filed with the ASX and Form 20-F as filed with the SEC can be found at www.sundanceenergy.net.
About Sundance Energy Australia Limited
Sundance Energy Australia Limited ("Sundance" or the "Company") is an Australian-based, independent energy exploration company, with a wholly owned US subsidiary, Sundance Energy Inc., located in Denver, Colorado, USA.
The Company is focused on the acquisition and development of large, repeatable oil and natural gas resource plays in North America. Current activities are focused in the Eagle Ford and Greater Anadarko Basins.  A comprehensive overview of the Company can be found on Sundance's website at www.sundanceenergy.net.
Summary Information
The following disclaimer applies to this document and any information contained in it. The information in this release is of general background and does not purport to be complete. It should be read in conjunction with Sundance's periodic and continuous disclosure announcements lodged with ASX Limited that are available at www.asx.com.au and Sundance's filings with the Securities and Exchange Commission available at www.sec.gov.  
Forward Looking Statements
This release may contain forward-looking statements. These statements relate to the Company's expectations, beliefs, intentions or strategies regarding the future. These statements can be identified by the use of words like "anticipate", "believe", "intend", "estimate", "expect", "may", "plan", "project", "will", "should", "seek" and similar words or expressions containing same.
These forward-looking statements reflect the Company's views and assumptions with respect to future events as of the date of this release and are subject to a variety of unpredictable risks, uncertainties, and other unknowns. Actual and future results and trends could differ materially from those set forth in such statements due to various factors, many of which are beyond our ability to control or predict. These include, but are not limited to, risks or uncertainties associated with our the discovery and development of oil and natural gas reserves, cash flows and liquidity, business and financial strategy, budget, projections and operating results, oil and natural gas prices, amount, nature and timing of capital expenditures, including future development costs, availability and terms of capital and general economic and business conditions. Given these uncertainties, no one should place undue reliance on any forward looking statements attributable to Sundance, or any of its affiliates or persons acting on its behalf.  Although every effort has been made to ensure this release sets forth a fair and accurate view, we do not undertake any obligation to update or revise any forward-looking statements, whether as a result of new information, future events or otherwise.
For more information, please contact:
United States
Eric McCrady, Managing Director
Tel: +1 (303) 543 5703
Jon Kruljac, VP Investor Relations & Capital Markets
Tel: +1 (303) 520-7479
Australia
Mike Hannell, Chairman
Tel: +61 8 8363 0388
Source: Sundance Energy Australia Limited