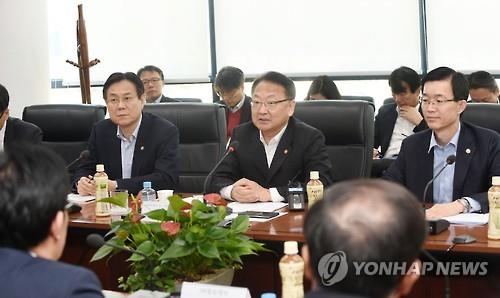 Finance Minister Yoo Il-ho (C) holds a meeting with bio-healthcare companies in Incheon on Feb. 4, 2016. (Image : Yonhap)
INCHEON, Feb. 4 (Korea Bizwire) – South Korea's finance minister said Thursday that the government has no immediate plan to draw up a supplementary budget to further stimulate the economy grappling with plunging exports and flaccid consumer spending.
"The government maps out a supplementary budget under inevitable circumstances, which leads to an increased burden on the people," Finance Minister Yoo Il-ho told reporters after holding a brief meeting with bio-healthcare businesses in the western port city of Incheon.
"However, the country is not in such a situation at the moment."
The government said a day before it will jack up its fiscal spending by an additional 21 trillion won (US$17.4 billion) in the first quarter to revive growth in Asia's fourth-largest economy.
The country' exports, the key economic driver, plunged 18.5 percent in January from a year earlier, the largest on-year drop in more than six years, while its consumer prices grew less than 1 percent last month for the first time in three months.
The government will frontload more than 40 percent of its 330.6 trillion won budget for 2016 in the first quarter, up 10 percentage points from its earlier plan.
Experts, however, pointed out that the increased spending in the first quarter will force the government to need more money to boost the economy later in the year.
Yoo emphasized again the principle of market-decided foreign exchange rates, refuting claims that the government should take action to devalue the local currency in order to revive exports.
"In principle, the foreign exchange rate is determined by market forces," he said. "Therefore, authorities should not intervene in the currency market."
The local currency shot up 17.2 won to end at 1,202.1 won against the greenback on Thursday, marking the biggest intraday gain since August.
The minister also said the government will not lower taxes imposed on gasoline amid rising concerns that the local fuel tariffs have kept gas prices at the pump from going further down despite falling crude prices.
South Korea's fuel tax, which is paid in a lump sum, accounted for around 60 percent of average gas prices of 1,390 won per liter in January.
Meanwhile, prices of Dubai crude, South Korea's benchmark, hovered around $30 per barrel last month, nearly halving from $53.70 a year earlier.'
(Yonhap)