SEOUL, May 28 (Korea Bizwire) —On the afternoon of May 27, a memorial service commemorating the seventh anniversary of the tragic Guui Station accident took place at Platform 9-4 of Guui Station on Subway Line 2 in Gwangjin-gu, Seoul.
On May 28, 2016, a 19-year-old temporary worker whose surname is Kim was alone repairing a platform safety door when he was unexpectedly struck by an incoming train, unaware of its approach.
At the time, Kim's monthly wage was 1.44 million won, and he always felt rushed because failing to complete his tasks on time meant his one-year contract would not be renewed.
Guidelines required a minimum of two workers to be present at the work site to watch for approaching trains, but Kim was working alone. It was later discovered that his bag contained uneaten cup noodles and spoons, along with his repair equipment.
Following the memorial service, attendees posted messages honoring Kim on the "Wall of Remembrance," located on the screen door of Platform 9-4, and placed white chrysanthemums as a gesture of respect. A violinist played the poignant melody "Become a Thousand Winds" to provide solace to Kim's departed soul.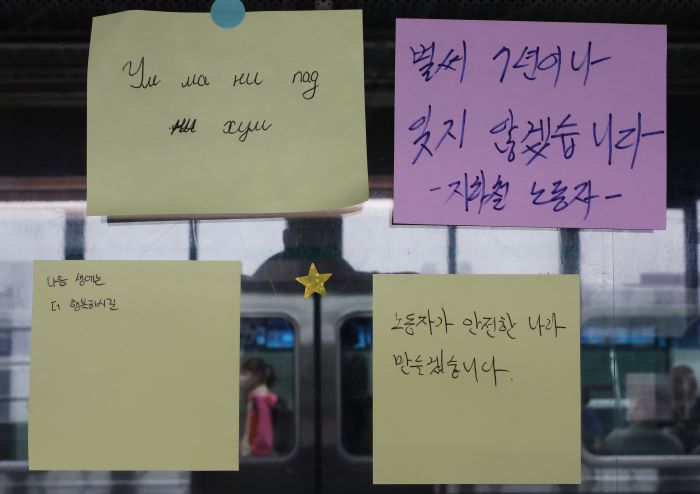 On the platform where the memorial service was held, there were also ramen noodles and a lunch box, accompanied by a heartfelt message that read, "Take your time to eat slowly," further adding to the poignant atmosphere. Kim was employed as a contract worker for Eunsung PSD, a subcontractor for Seoul Metro. Tragically, the day after his passing marked his birthday.
Image credit: Yonhap / photonews@koreabizwire.com