JINJU, July 29 (Korea Bizwire) — Apple pomace, normally thrown away as waste or used as animal feed due to a lack of recycling technology, will now be used in cosmetics products.
Gyeongsangnam-do Agricultural Research & Extension Services (ARES) announced Tuesday that it has transferred a newly developed technology that uses apple pomace to make cosmetics products to a local agricultural firm.
Apple pomace refers to what is left of an apple after extracting its juice. Apple pomace can be used in a variety of novel ways, with the new technology contributing to new uses.
Some 6,000 tons of apple pomace produced each year is being thrown away or used as animal feed due to a lack of recycling technology.
Apple pomace extract was recently found to contain phenols and ursolic acid, which are effective antioxidants and anti-inflammatory substances.
The Gyeongsangnam-do ARES completed registration of apple pomace onto the list of International Nomenclature Cosmetic Ingredient (INCI) in September of last year, recognizing apple pomace as an official ingredient in the production of cosmetics.
"Apple pomace will help boost the value of apples and help protect the environment," said Hong Jeong-jin, a researcher at the Gyeongsangnam-do ARES.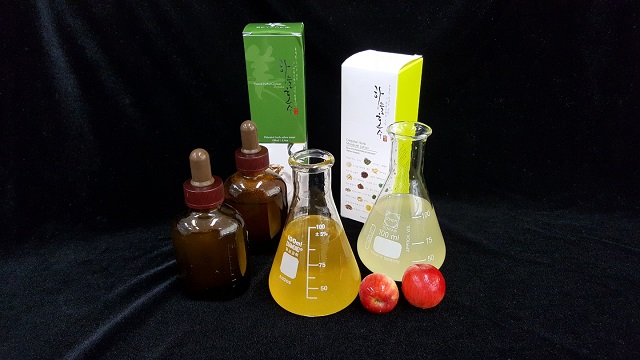 Image Credit: Gyeongsangnam-do ARES / Pixabay / photonews@koreabizwire.com