"With it being classified as a special first-class hotel, The-K Seoul Hotel will achieve 50 billion won (US$48 million) of sales by 2017 and lead the hotel MICE industry in Korea."

"Globally, MICE business is being recognized as a new engine for economic growth and many countries are supporting the business at governmental level. In that sense, The-K Seoul Hotel located in 330,000 square meter Yangjae Citizen's Forest shows off superb scenic beauty and with a variety of room plans, reception halls, seminar rooms, an art hall and a golf club. Our hotel is emerging as the center of the Korean MICE Industry."

Kang Byung-jik, CEO of The-K Seoul Hotel at the press conference held on September 23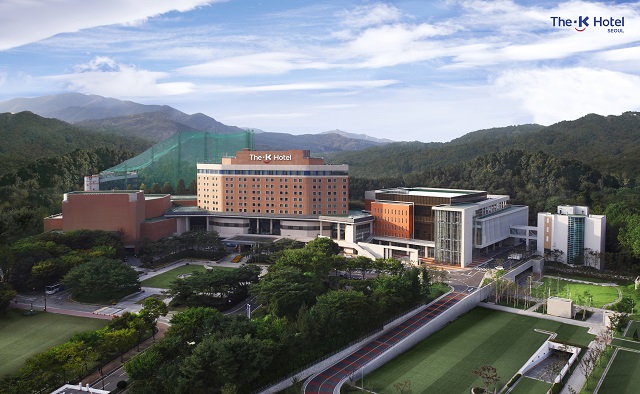 The-K Seoul Hotel, a 100 percent subsidiary of the Korean Teachers' Credit Union, became the 25th special first-class hotel on last August 25. (image: The-K Seoul Hotel)
SEOUL, Sept. 25 (Korea Bizwire) – Kang Byung-jik, CEO of The-K Seoul Hotel, called a press conference in commemoration of the first anniversary of its opening of the convention center and recent classification as a special first-class hotel on September 23.
During the conference, Kang said, "The-K Hotel was launched as a youth hostel in 1991 and was entitled as a second-class hotel in 2001. After 13 years, our hotel was classified as the special first-class one, the first hotel from youth hostel to become the special first-class hotel."
In the meantime, Kang presented his plans and visions on how to manage its convention center which will lead the hotel MICE industry in Korea. MICE is an acronym for meeting, incentive, conventions and exhibitions and often called business tourism (BT). As many people from home and abroad gather for a convention, the business generates more employment and improvements in tourism profits.
The-K Seoul Hotel, a 100 percent subsidiary of the Korean Teachers' Credit Union, became the 25th special first-class hotel on last August 25. Located on 105,000 square meters of natural green area, it is surrounded by ecological environment such as Seocho Culture and Art Park, Yangjae Citizen's Forest and Yangjae Stream.
By John Choi (johnchoi@koreabizwire.com)