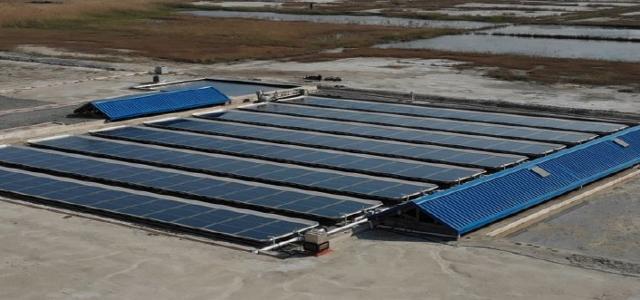 SEOUL, Sept. 4 (Korea Bizwire) — South Korean researchers have developed new technology that allows for the production of electricity and salt using solar panels.
The state-run utility Korea Electric Power Corp. (KEPCO) announced on Thursday that a consortium including the Green Energy Institute had developed a 100 kilowatt (kW) salt-producing solar panel system.
These solar panels are installed underwater at the bottom of salt evaporation ponds that are 5 centimeters deep to produce both electricity and salt.
Solar panels and salt ponds both do best if they're set up in sunny, windy areas.
The research team developed a 100 kW system after testing a 6 kW prototype at a salt pond in Muan County, South Jeolla Province in March 2018.
KEPCO designed solar panels capable of withstanding water pressure, and developed an integrated management system for these panels.
As a result, the underwater solar panels were capable of generating 5 percent more electricity than others thanks to the cooling effect offered by saltwater in the summer.
In addition, the radiant heat generated by the solar panels decreased the evaporation time for the salt ponds, leading to an increase in salt production.
The new technology may attract salt producers in China and India, creating an opportunity to raise overseas sales, KEPCO said.
Image Credit: KEPCO / Yonhap / photonews@koreabizwire.com