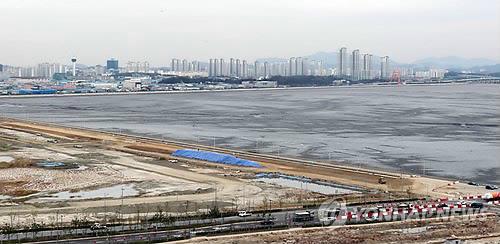 Songdo, Incheon. (Image : Yonhap)
INCHON, Oct. 19 (Korea Bizwire) – An artificial island to protect rare bird species will be created at the mud flats near Songdo, Incheon, an area designated as a Ramsar wetland.
According to the Incheon Free Economic Zone Authority, 5.9 billion won will be invested to build an artificial island near the coastal wetland protected area, located east of Songdo International Business District.
With the land reclamation project that made the Songdo International Business District possible came a loss of habitat for blackfaced spoonbills. There are 2,700 blackfaced spoonbills in the world, and 200 to 300 come to Songdo every spring to lay their eggs.
After consulting bird experts on numerous occasions, authorities from the Incheon Free Economic Zone decided to created an artificial island. The construction will begin in August 2017, with officials aiming for construction to be complete by the end of 2018.
The Ramsar Convention is an international treaty dedicated to the protection and sustainable use of wetland areas. South Korea currently has 21 Ramsar sites, with the Songdo mud flats added to the list in 2014.
Image Credit: Yonhap / photonews@koreabizwire.com