SEOUL, Korea, April 4 (Korea Bizwire) – A study suggested that Korea may learn from the experience of European countries in raising birthrate. Hyundai Economic Research Institute said on April 3 in a report "How to Get out of Low-birth Trap: Learn from Europe" that the most important policy measure is to allow women to balance work and family life by encouraging flexible work hours.
In the report, the European countries from which Korea should learn lessons included France, Britain, Iceland, Ireland, Belgium, the Netherlands, Sweden, Denmark, and Finland. As of 2012, the total fertility rate of these eight countries was 1.9, much higher than that of Korea at 1.3. In these countries with progressive maternity policy, the percentage of women who can work in flexible hours was 42.4 percent. That contrasts well with Korea's 6.4 percent.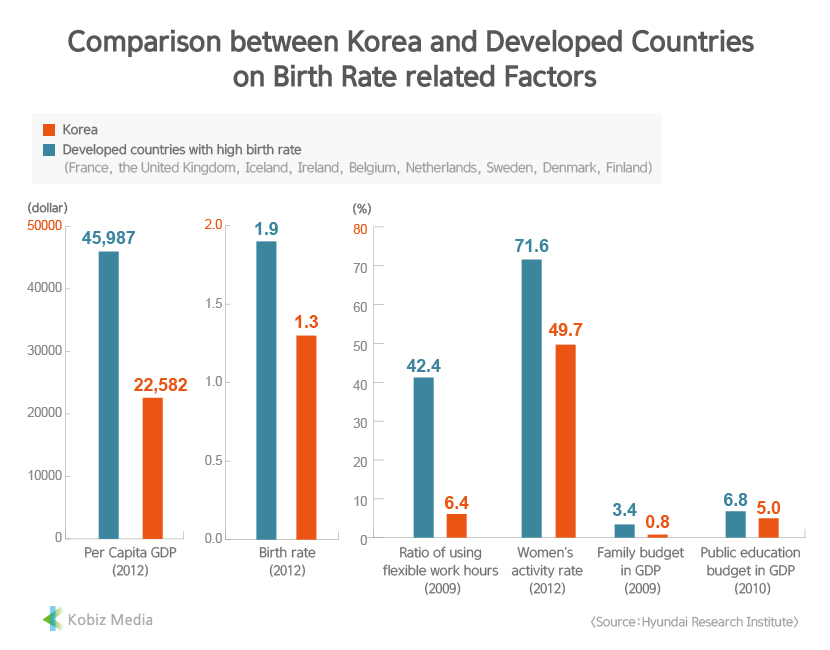 The ratio of those women taking advantage of flexible work schedule in Sweden and the Netherlands was 55 percent. The ratio in Portugal, the European country with the lowest percentage of women opting for variable work schedule, was as high as 23.1 percent.
In addition, the governments of these countries spend a higher portion of budget on childcare and family support. As of 2009, the average ratio of spending on these items to the GDP was 3.4 percent. The corresponding figure for Korea in the same year was 0.81 percent. A higher spending ratio in public education was also attributed to these European countries' success in bringing up the birthrate. The average educational spending ratio for these eight countries in 2009 was 6.8 percent while that for Korea stopped short of 5.0 percent.
Related News:

'Womenomics' forum focuses on growing female employment

(Korea Joongang Daily, Mar 28)

Japan's demography: The incredible shrinking country (The Economist, Mar 25)

A Recent History of Campaigns to Get Couples to Do the Nasty (Time, Mar 27)
The report also pointed out that the societal attitude toward childbirth out of wedlock could be a factor in determining a country's birthrate. For example, the ratio of children born out of conventional marriage relationships in these European countries is as high as 52.6 percent while that for Korea is abysmally low at 2.1 percent.
Written by Sean Chung (schung10@koreabizwire.com)
Policies & Law (Follow us @Policynews_Korea)