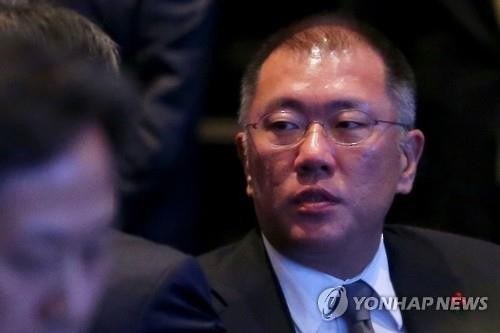 SEOUL, Feb. 22 (Korea Bizwire) – The No. 2 leader of Hyundai Motor Co., South Korea's largest carmaker, has said he will do his best to upgrade the corporate image in China to become the best car brand in the world's biggest automobile market, the company said Sunday.
"We are making efforts to prepare for a future Chinese market through building a new factory there," Vice Chairman Chung Eui-sun said in a meeting with a Chinese dealership in Seoul on Saturday. "We need your help to become the best car brand in China."
Hyundai's China sales dropped 5.1 percent to 1,062,826 units last year due to a strengthened local currency and intensified competition, but its December sales jumped 10.2 percent on-year to 128,020.
The company will take a more aggressive stance in 2016 to launch its flagship EG900 luxury sedan and the Sonata hybrid sedan in China.
The company has five factory lines in China, including one under construction, with a total capacity for an annual 1.71 million units.
Hyundai and its sister company Kia Motors Corp. are aiming to sell a combined 8.13 million cars worldwide this year, up from 8.01 million sold last year.'
(Yonhap)