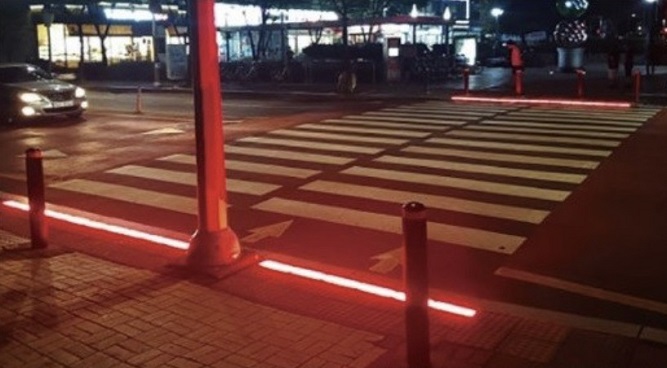 SEOUL, Feb. 23 (Korea Bizwire) — The Gangnam District Office in Seoul said Monday that it had decided to install in-ground LED traffic lights at 101 children protection zones over the next five years, starting with the ones in the crosswalks at 32 elementary schools within the district.
In-ground LED traffic lights enable pedestrians to sense the change in traffic signals without looking up at the traffic light, thereby reducing the risk of traffic accidents for those who use smartphones while they walk.
The district office also plans to install five 'pedestrian signal audio guide systems' that generate alarm sounds when pedestrians cross the standby line per year over the next five years.
Officials also intend to install three 'solar-powered speed alarm systems' that indicate the current speed of vehicles in an LED format per year over the next five years.
In addition, the district office will replace 465 traffic safety signs in protection zones with LED ones that can be seen easily even at night.
Image Credit: BLUE Co., Ltd / Gangnam District Office / photonews@koreabizwire.com