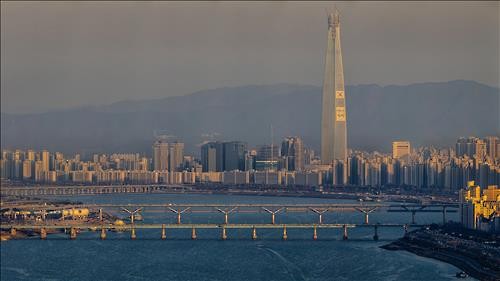 SEOUL, March 18 (Korea Bizwire) – The construction of the spire structure at the top of Jamsil Lotte World Tower (the second Lotte World) has been completed. The tallest building in Korea now stands proud at a record height of 555 meters.
The last pillar of the new tower was placed on the 123 floor in December 2015. The 40.3 meter high metal tower structure was completed today, and placed on top of the 123-story building.
More than 3,000 tons of steel was used to build the tower, which was designed to tolerate 9.0 magnitude earthquakes, and wind speeds as fast as 80m/s.
The building features a 'diagrid' structure between floors 107 and 123.
The word 'Diagrid' is a portmanteau of 'diagonal' and 'grid', which refers to a triangle-shaped steel structure repeatedly used to build a building.
Lotte officials explained that the three-dimensional structure improves the beauty of the building and helps the building support its weight without the use of pillars.
It is the first time that a diagrid structure has been used in Korea. Lotte World Tower is now the highest diagrid structure in the world (555 meters), breaking the record of Guangzhou International Finance Center (438.6 meters) in China.
Image Credit: Yonhap / photonews@koreabizwire.com