SEOUL, Jan. 4 (Korea Bizwire) – Lotte World Tower – a 555-meter, 123-floor skyscraper in Seoul – underwent a fire evacuation drill on Wednesday afternoon, with 2,891 civilians who volunteered for the exercise participating.
The drill's scenario assumed that the fire took place in the tower's restaurant on the 107th floor, with as many as 383 individuals standing by on each of the floors between the 84th and 124th floor, waiting for the green light to evacuate. 
Two minutes after the simulated fire alarm, Lotte's in-house fire team was dispatched, and after five minutes, the first fire truck from Songpa District fire department arrived at the scene. The full squad appeared after nine minutes. 
Officials started to engage the fire on the 107th floor 18 minutes into the exercise, while the civilians were evacuating via stairways and 19 (out of 61 total) emergency elevators within the building, aided by officials. It took roughly an hour for all civilians to evacuate the building. 
Some 3,700 civilians and officials participated in the drill, with two helicopters and 56 vehicles from the fire department, the police, and the military. 
Lotte Chairman Shin Dong-bin was also at the scene, monitoring the entire procedure.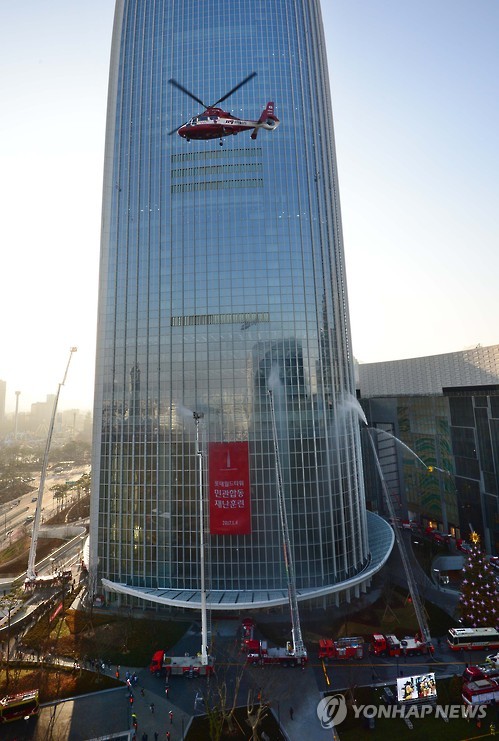 Image Credit: Yonhap / photonews@koreabizwire.com