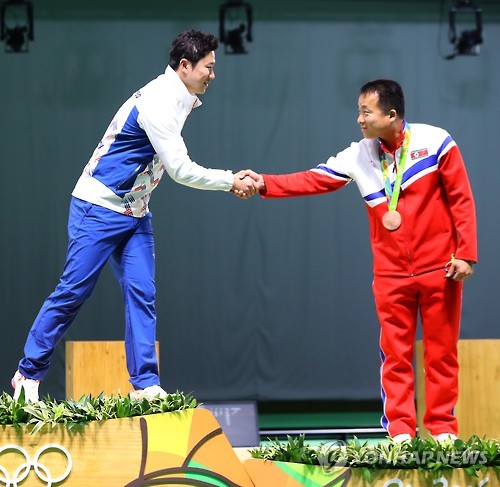 RIO DE JANEIRO, Brazil, Aug. 11 (Korea Bizwire) –  South Korean shooter Jin Jong-oh collected a fourth gold medal for his country on Wednesday in the men's 50m pistol at Rio 2016. But it wasn't an easy win even for Jin, who holds the world record in both 10m air pistol and 50m pistol. 
The silver medal went to Hoang Xuan Vinh of Vietnam, and bronze, to North Korea's Kim Song-guk. 
The two Koreans later exchanged a winners' handshake during the awards ceremony. 
"If we combine the two (medals) together it becomes one greater medal," said Kim during a press conference after the ceremony. "If both first and third place winners come from one Joseon (Korea referred to by North Koreans), it becomes a bigger medal." 
Although slightly ambiguous, Kim's remarks marked the first time that a North Korean athlete has made a comment referring to reunification at this year's Olympics. 
Kim did express regret, but acknowledged the South Korean champion's skill and ability.
"Jin Jong-oh is a world-class athlete and he's the perfect rival. I will aim for him in my future practices, and will ultimately claim the title."
Image Credit: Yonhap / photonews@koreabizwire.com