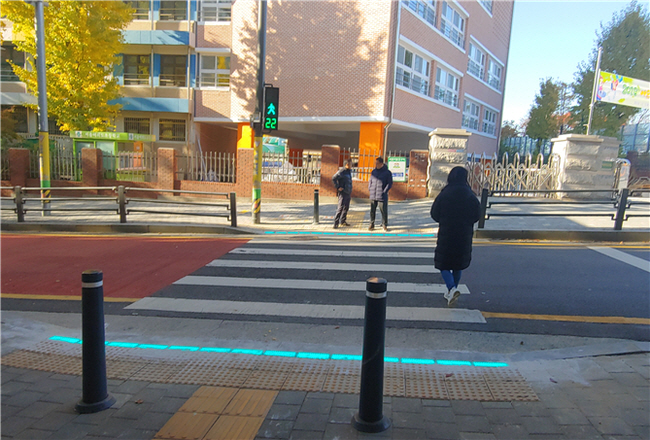 SEOUL, Nov. 26 (Korea Bizwire) — There is a newly coined word, 'smombie', a compound of 'smartphone' and 'zombie', referring to those who walk slowly without attention to their surroundings because they are absorbed in their smartphones.
In order to prevent traffic accidents involving smombies, the Seoul Metropolitan Government has introduced new crosswalks and traffic lights.
Yeongdeungpo District installed in-ground LED traffic signal lights at the rear of Yeouido Elementary School on a trial basis.
The lights were installed in a 4-meter strip on the ends of both sidewalks, just like the length of the crosswalk. They are linked to a signal controller and change color just like a crosswalk signal.
Seongdong District has installed two smart crosswalks in its jurisdiction that incorporate eight types of smart safety features, including a pedestrian, runway-type guidance lamp.
Image Credit: Yeongdeungpo District Office / Seocho District Office / photonews@koreabizwire.com