SEOUL, June 3 (Korea Bizwire) – SK Telecom has developed the world's first next-generation Giga Wi-Fi technology maximizing the convenience for the giga-bit Wi-Fi users.
The largest mobile carrier in Korea announced on June 3 that it secured the "2FA" (Frequency Assignment) technology of giga Wi-Fi which doubles its data transfer rate from current 1.3 Gbps by applying two channels of 80-MHz bandwidth to 5-GHz frequency. SK Telecom began the commercial service of giga Wi-Fi March last year for the first time in the world.
The "2FA Giga Wi-Fi" technology can accommodate twice more users in the same coverage and enables users to enjoy wireless data services of giga Wi-Fi pleasantly in the crowded areas.
The development of the 2FA Giga Wi-Fi technology was considered hard due to the frequency interference brought on by the simultaneous usage of proximity channels. However, SK Telecom overcame the problem by applying a filter technology by hardware optimization, thereby enabling the simultaneous two-channel usage.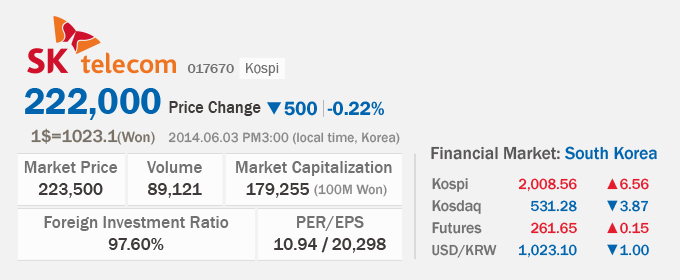 Thanks to the technology, users can enjoy the improved Wi-Fi user environment without any change in their devices embedded with 802.11ac chipsets such as laptops and smartphones. SK Telecom will commercialize the service during the latter half of this year after adjusting related problems based on pilot test results.
Park Jin-hyo, director of Network Technology R&D Center of SK Telecom said, "SK Telecom will offer one-level upgraded mobile Internet service for our smartphone users through a differentiated technology and equipment like 2FA Giga Wi-Fi. We will try our best to develop and introduce new technologies that can add convenience to our subscribers' mobile environment in the future."
SK Telecom Co., Ltd. is a South Korean wireless telecommunications
operator, controlled by the SK Group, one of the country's largest chaebol.
IR News Team (irkorea@koreabizwire.com)