SEOUL, Feb.25 (Korea Bizwire) – A traditional fire ceremony that has been held over the years on Jeju Island now continues as a festival.
Fire ceremonies have long been held in Korea during the winter. Various types of ceremonies using fire exist across the nation. As part of wishes for a prosperous new year and a rich harvest, fields were set on fire.
Now, the ceremonies continue in the form of a contemporary festival. The Jeju 'Field Fire Festival' is the only festival related to cultural tourism, and is one of Korea's cultural highlights.
This year the festival is seeing its 19th anniversary. The festival will last for four days from March 3 to 6, under the theme 'Hope rises from field fires and spreads into the world'. The highlight of the festival is the setting of a fire at Sebyeol Oreum (volcanic cone).
The Jeju Field Fire Festival has its origins in the nomadic culture of Jeju. Until the 1970s, farmers on Jeju Island grew crops in the fields and raised  two or three cows. The farmers put their cattle out to pasture, and in the winter, they set fire to the pasture and fields to get rid of unwanted weeds and harmful insects. The horses and cows could feed on soft, fresh grass grown in pastures without pests.
The traditional ceremony was first held as a festival in 1997. At first the festival was held near the first full moon of the Lunar New Year, but in 2013, the date was moved near 'Gyeongchip' which is a day when frogs are said to come outside from their hibernation.
Various events occur during the festival, including concerts, parades and horseback riding performances, and tourists can experience many delicious foods from Jeju.
As the festival has settled as an important event representing the region, organizers are now setting their sights on expanding abroad. The festival was selected as a cultural tourism festival by the government for the 11th time.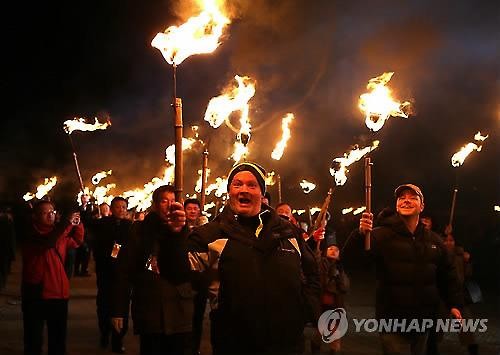 As the festival became famous, performers from the U.S., China and Japan have now been invited, which is an indication of the international reputation of the event. The festival is also a must-see for the rising number of foreign tourists who visit Jeju Island. Local officials are preparing more activities so that tourists can experience more of the local culture during their visits.
Image Credit: Yonhap / photonews@koreabizwire.com