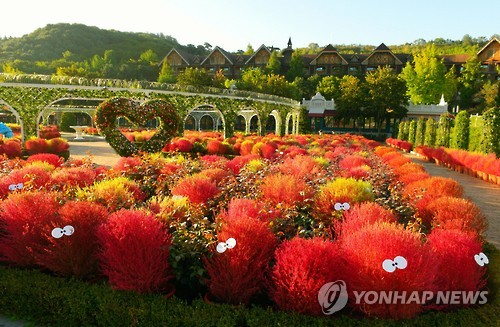 YONGIN, Oct. 7 (Korea Bizwire) – Everland has announced the opening of its  Kochia Festival, which is exhibiting hundreds of thousands of red Kochias all over the theme park.
The scientific name of Kochia is 'Kochia Scoparia', and they turn red earlier than other foliage, and into a deeper color. They can easily be seen in fields in the Korean countryside. They grow to be about one meter high, and are sometimes dried and tied up for use as brooms.
The festival, which opened on October 2, continues until October 25, and will stage over 40 thousand Kochia bushes at the entrance, the Four Seasons Garden, the Rose Garden and the Global Fair.
Everland plans to open a Kochia photo contest, giving out prizes to those who submit photos of the colorful plants.
Image Credit: Yonhap / photonews@koreabizwire.com