GOYANG, Sept. 17 (Korea Bizwire) – A variety of events have been held to celebrate the eve of the 'DMZ International Documentary Festival' (DMZ Docs) at Ilsan's Lake Park.
More than 2,000 people, including Goyang citizens, Goyang mayor Choi Sung, and director of the event Jo Jae-hyun attended an event called the 'DMZdocs Peace Rock Concert'.
Other than the brilliant performances from a variety rock bands, the official trailer and highlight clips for the DMZdocs festival were screened.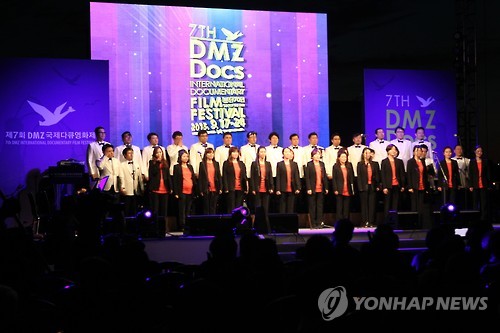 The DMZ International Documentary Festival, which is celebrating its 7th year, will be held from September 17 to 24 under the theme 'Peace, Life, Communication'.  A total of 102 films from 43 countries will be screened.
The opening piece will be 'I am Sun-mu' from director Adam Sjoberg. The piece observes the uncomfortable relationship between North and South Korea, freedom of art, universal qualities and peace through the artworks of Sun-mu, an artist who is also a North Korean defector.
The films that are screened at the festival can also be seen at the Megabox in Baekseok, as well as in Paju Book City. Tickets can be reserved on the Megabox homepage.
Image Credit: Yonhap / photonews@koreabizwire.com