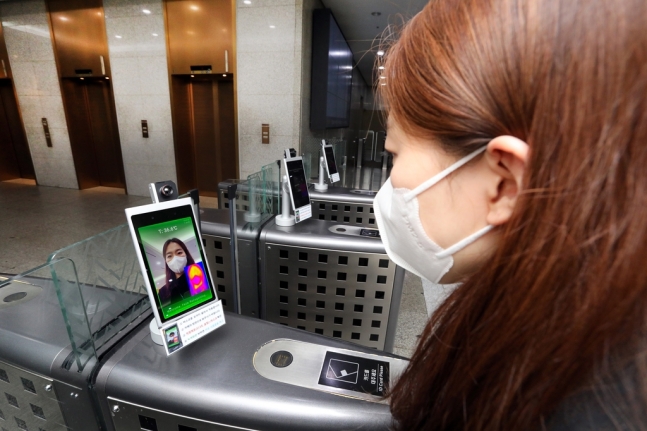 SEOUL, July 2 (Korea Bizwire) – Well known for its highly advanced technology, flash and catchy K-pop music, South Korea is also infamous for its 'bali bali' (meaning "hurry hurry" in Korean) culture. In the midst of the coronavirus pandemic, the nation has validated its 'everything speedy' attribute once again, showing off an innovative way of testing for the novel coronavirus using fast food-style drive through testing stations.
Corporate Korea is also striving to speed up business life — including smart entry management systems applicable to visitors to office buildings.
Hyundai Engineering said on Wednesday it will introduce a 'smart entry management system' aimed at preventing the spread of infectious disease including COVID-19 and further beefing up corporate security.
The system, installed at every entrance to a building, measures all visitors' body temperature and determines whether or not they are wearing a face mask. When a visitor's body temperature is found to be 'abnormal' or beyond the normal range around 37 degrees Celsius, or if they are not wearing a mask, the system transmits this information to security agents at the building.
Given that confirmed cases of the virus are on the rise, the company is planning to use this system to stave off the spread of the disease and over the long-term, the plan is develop even more sophisticated entry management systems through the use of facial recognition technology and other functionality.
Image credit: Hyundai Engineering/ Yonhap / photonews@koreabizwire.com