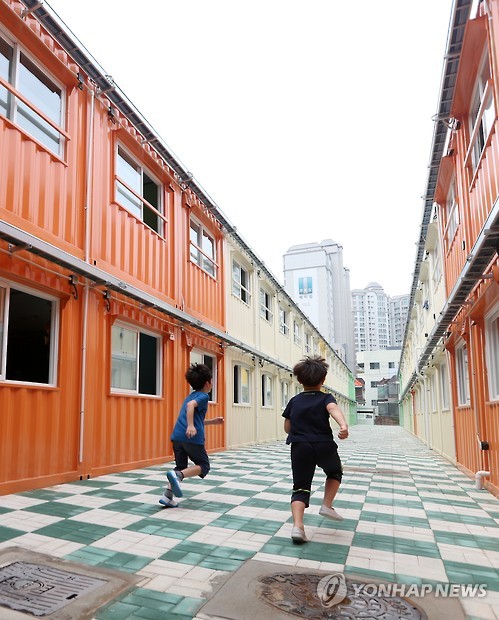 DAEGU, Sept. 7 (Korea Bizwire) – These children may be excited to be studying in an unusual set of classrooms made out of shipping containers, but they're actually victims of a process to rebuild their school.
Daegu's Dongcheon Elementary School was deemed to be unsafe last year, with high susceptibility to natural and other man-made disasters, and as such the Daegu Metropolitan Office of Education decided to rebuild the school. Container classrooms were set up in the school's playground during this year's summer break, and all 1,042 students of Dongcheon Elementary are now partaking in classes inside the metal crates. 
Although the education office guaranteed the safety of the children during the school's reconstruction process, many parents are concerned. 
"The children will have to take their classes in these container classrooms, and I'm worried about the noise and dust from demolition and the construction process," said one parent.

The expected completion date of the project is July 2018.
"The air quality in the temporary classrooms was fine when we measured it," said the city official. "We also plan on installing a high-rise dust and noise-proof fence around the classrooms." 
Meanwhile, another elementary school in Daegu – Sincheon Elementary – is undergoing a similar process, with some 550 of its student studying in container classrooms, after the school was also found to be vulnerable to disasters.
Image Credit: Yonhap / photonews@koreabizwire.com