SEOCHEON, South Korea, Jan. 17 (Korea Bizwire) – A new comfort woman statue, also known as the statue of peace, was erected Tuesday in Seocheon County, South Cheongcheong Province, becoming the 56th such statue to be established globally. 
The statue was funded by the county residents, who struggled for the past two months to find a suitable site for the monument until Seocheon's central square was chosen as its final destination. 
The unveiling ceremony was attended by some 100 students and members of local civic organizations. 
On the back of the statue is a marble monument with writing that reads, "We give solace to the agonizing pain and torment suffered by 200,000 girls and women taken as comfort women through the lies of colonial Japan. We shall remember, so that our somber history is never repeated."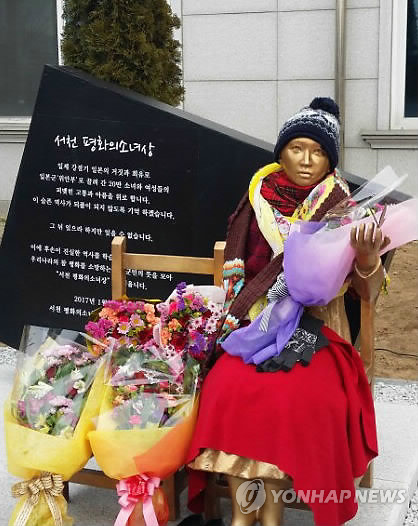 Image Credit: Yonhap / photonews@koreabizwire.com