ULSAN, March 24 (Korea Bizwire) – A safety drill to raise awareness and ensure adequate preparation for tsunamis was recently held in Ulsan.
Although Koreans feel the need for safety drills when watching earthquakes and tsunamis hit other countries, as Korea is often considered to be a 'safety zone', these types of drills are often neglected.
The drill featured the participation of the Namhae Coast Guard and the Ulsan Harbor Ocean Safety Belt, which consists of 11 different organizations related to Ulsan Harbor.
Under the premise that a tsunami from Japan arrived in Ulsan, 300 people from 20 organizations and 28 ships, 1 helicopter and 10 vehicles took part in the drills.
It only takes a minute and a half for a tsunami from Japan to arrive in Ulsan. As part of the drill, a warning siren went off, and local office workers led residents to a nearby shelter.
Ships in the harbor were moved out to sea, as waves build up when they arrive near the harbor.
The Coast Guard officers rescued 'drowning' people with boats and a helicopter. Ambulances that were waiting by the shore moved the injured to nearby hospitals.
Firefighting ships put out fires that occurred on ships, and established an oil fence to prevent the leaked oil from spreading to sea.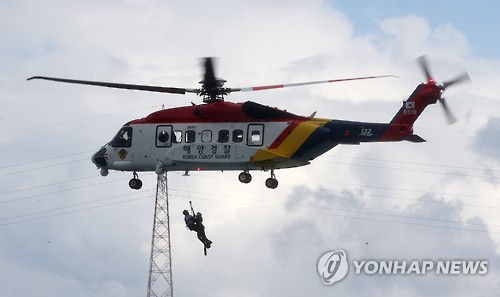 Korea previously experienced a tsunami in 1983, and was rocked by waves as high as seven meters. Two individuals went missing, another two were injured, and 44 ships and 68 houses were damaged.
Another tsunami occurred in 1993, raising concerns that Korea is not as safe as many assume it to be.
Image Credit: Yonhap / photonews@koreabizwire.com