SEOUL, July 1 (Korea Bizwire) — A private-public-military joint training program and drill has been conducted to prepare for potential drone terror attacks.
The Seoul Metropolitan Police Agency carried out a joint anti-drone terror drill together with the Army's Capital Defense Command and Hansei University at the Jamsil Sports Complex in Seoul on Tuesday.
In particular, the joint drill was followed by training to prepare for potential chemical terror attacks on the basis of a scenario in which drones carry not an explosive, but a harmful chemical material.
During the drills, an unidentified drone scattered chemical materials in the air above the Jamsil Sports Complex.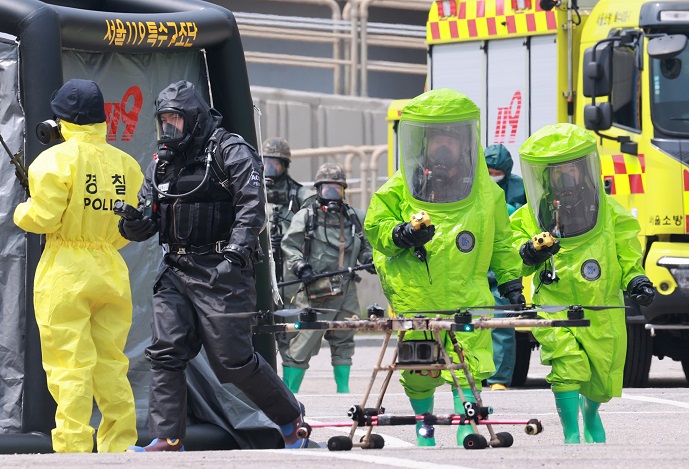 The police shot the drone with a jamming gun when the drone flew in the middle of the sports complex. The jamming gun is a device that can incapacitate the drone by disturbing the signal between the drone and controller.
The drone slowly fell to the center of the sports stadium. As powder spurted out from the fallen drone, a group of police officers wearing 'Label D' protection suits sealed off the area and helped citizens escape.
Right after that, the Chemical Accident and Terror Response Team from the Han River Watershed Environmental Management Office and the 119 Special Rescue Corps conducted decontamination operations.
Image Credit: Yonhap / photonews@koreabizwire.com