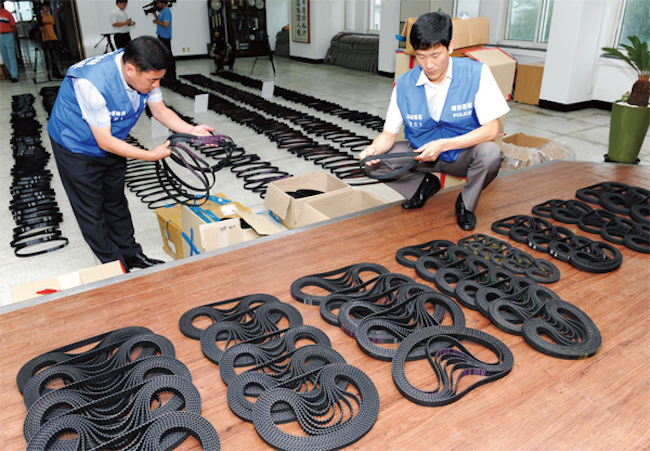 SEOUL, Sept. 5 (Korea Bizwire) — A report released by the Korea Customs Service on September 4 revealed that 8,607 of 9,853 counterfeit goods seized were made in China.
The yearly report on the black market for counterfeit goods stated that the total number of counterfeit goods seized by the agency declined by 3 percent from 2015 to 2016.
The measured total weight of all seized goods increased by 11 percent to 90,788 kilograms.
Off the 90,788-kilogram total, 24.8 percent consisted of toys and 14.5 percent consisted of clothing and fabrics.
Compared to 2015, 2016 saw sharp increases in exercise equipment (266 percent), personal accessories (243 percent) and home appliances (239 percent).
China continued to hold the lead as the number one provider of counterfeit goods to South Korea.
The most common categories of goods were bags (2,537) and shoes (2,300). 
Methods of importing counterfeit products were mainly through standard shipping (5,900 cases) or express/special delivery packages (3,646 cases).
A representative of the Korea Customs Service said, "Individual consumers should also be careful not to order counterfeit products when ordering small parcels or purchasing branded goods from abroad and having them delivered through mail or special delivery."
S.B.W. (sbw266@koreabizwire.com)