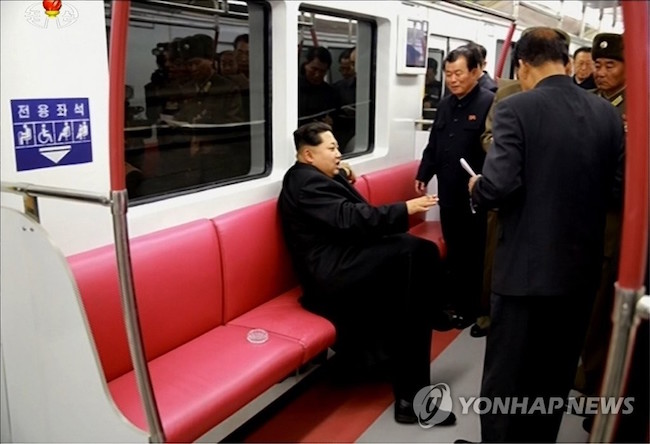 SEOUL, Sept. 11 (Korea Bizwire) – A broadcast on September 8 by North Korea's only official news channel revealed that hydrogen bombs may not have been the only technology development the reclusive nation has been conducting underground.
In the Joseon Jungang TV piece, Pyongyang residents are seen riding the subway, with an extra close-up on one middle-aged man thumbing through the headlines of the Rodong Sinmun, the official newspaper of the Central Committee of the Workers' Party, on an app on his smartphone.
The Rodong Sinmun, meaning "labor newspaper", has the names of the dictatorial figureheads, Kim Jong Un and Kim Jong Il in bold.
As the man flips through his phone, riders in the background of the packed subway car do likewise. North Korea experts have made the inference that the broadcast is an attempt to present the North Korean people as regular smartphone users.
The various features of the subway are also emphasized through a series of close-ups. A digital display installed on the wall next to the entrance shows a male news anchor with a headline in red that says "The Korean People's Army Head of Strategic Rocket Forces General Kim Rak Gyom's Announcement". The news bit is on the North Korean general's statement regarding the potential launch of strikes on Guam last month. 
Screens showing the subway speed, indoor temperature and humidity also display the name of the next station. A welcome message is also posted right next to the display.
The subway is believed to have been developed in commemoration of the Workers' Party of Korea's 70th anniversary. The first track lines were laid out in October 2015. 
It was reported that Kim Jong Un expressed his pleasure with the transportation system by observing that "The chosen colors and forms work well with the modern look and qualities of a method of public transportation." 
The North Korean dictator took a ride on the subway during its test run in November 2015.
S.B.W. (sbw266@koreabizwire.com)