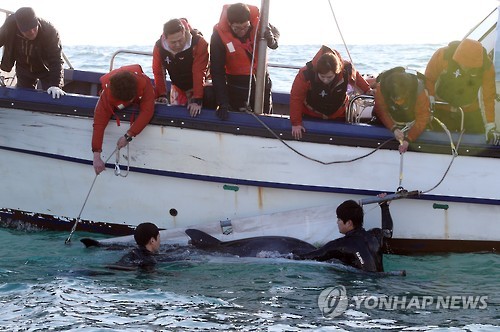 ULSAN, March 3 (Korea Bizwire) – A bottlenose dolphin that was rescued from Bangeojin harbor fully recovered and was returned to sea after 26 days. A very sweet and special goodbye took place at the site.
Returning a wild dolphin back to sea required delicate preparation and much effort was put into the task, almost making it seem like a military operation.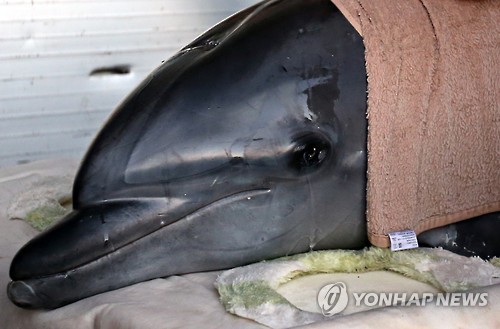 The release started in a small pool at the Jangsengpo Whale Life Experience Museum. After fitting the dolphin with a GPS tracking device, the animal was taken to Bangeojin harbor using a cargo truck. The dolphin was covered with a wet cloth, and many keepers continuously sprayed water on it to prevent it from drying out. After getting on a boat, the crew sailed far out to sea, where they released the dolphin.
After being returned to sea, the dolphin swam around the boat for a while, unwilling to leave. It seemed like it was expressing its gratitude to the crew for saving it and releasing it.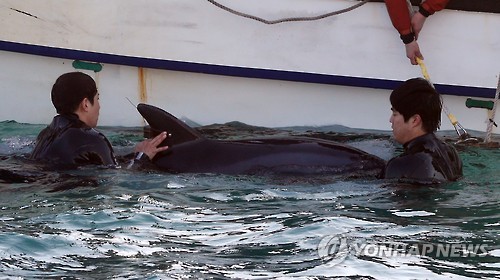 After watching the dolphin for about 10 minutes, the crew parted with the dolphin, hoping it would adjust to life back at sea.
The dolphin was first rescued from Bangeojin harbor on February 4. After receiving a report that a dolphin entered the harbor, keepers at the Whale Life Experience Museum and researchers from the Whale Research Center rushed to the site.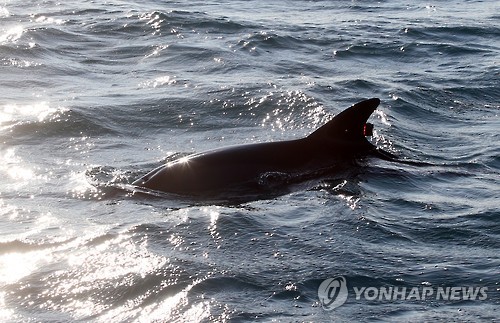 The dolphin was exhausted, and was exposed to dangers including the threat of a collision with a boat. The team took the dolphin to a small pool at the Whale Life Experience Museum.
The two-and-a-half-year-old dolphin was bruised, and had parasites on its skin. Strangely, it didn't even eat fish.
The keepers found sucking disk marks from squid around the dolphin's mouth, and released live squid in the pool. Finally, the dolphin hunted the squid and started eating. As it recovered its strength, the dolphin even played with the squid before eating it. Since it ate 10 kilograms of squid every day, the crew had to go back and forth to the market to get fresh live squid.
After being treated, the dolphin recovered quickly. The Ministry of Maritime Affairs and Fisheries decided to return it to sea as soon as possible, in fear that it would lose its natural instincts and have difficulty adjusting if it was cared for by humans for a long period of time.
Professor Lee Gyeong-ri of the Whale Research Center commented that it was the first time in Korea that a bottlenose dolphin was rescued alive and sent back to sea. Lee added that even if ships spot dolphins wearing GPS tracking devices, they should ignore them and let them live independently and wild at sea.
Image Credit: Yonhap / photonews@koreabizwire.com