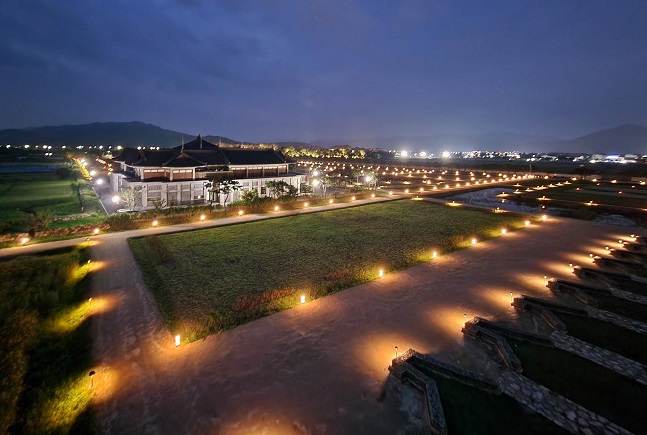 GYEONGJU, June 6 (Korea Bizwire) — Gyeongju, a region steeped in the richness of its ancient heritage, stands as a veritable trove of cultural relics.
For close to a millennium, from its inception in 57 B.C. until the reign of Goryeo Dynasty founder Wang Geon in 935, Gyeongju served as the venerable capital of the ancient kingdom of Silla.
Among the many endeavors aimed at preserving its historical splendor, the city of Gyeongju has unveiled an ambitious restoration project focusing on the hallowed Wonji ruins, a pond hailing from the Silla period.
This venture promises to further augment the allure of Gyeongju, a city renowned for its preservation of heritage.
On Sunday, city officials announced their dedicated efforts to advance the restoration and maintenance project for the ancient Silla capital, which encompasses the prominent Guhwang-dong Wonji ruins.
According to data released by Gyeongju's city government on Thursday, the number of visitors to three of the region's most popular tourist attractions — namely, the Daereungwon Tomb Complex, Bulguksa Temple, and Donggung Palace & Wolji Pond — reached an impressive tally of 577,945 in the month of May.
This figure marks a remarkable increase of 35 percent compared to the corresponding period last year, when there were 435,061 visitors.
Moreover, Hwangnidan-gil, an officially tallied site since the commencement of this year, drew the attention of 1,432,331 visitors in the previous month alone, contributing to a total count of 2,027,276 tourists in May.
Notably, Daereungwon Mediaart, celebrated as a rendezvous for nocturnal outings among amorous pairs, captivated the interest of young couples, while the recently inaugurated Geumridan-gil night market has attracted more than 8,000 attendees since its opening on May 26.
In the realm of entertainment, the Silla Moonlight Tour, the 1918 Concert, and the Bonghwangdae Music Square emerged as favored attractions for the dynamic and youthful MZ generation, garnering their enthusiastic patronage.
Image Credit: Gyeongju City Office / photonews@koreabizwire.com