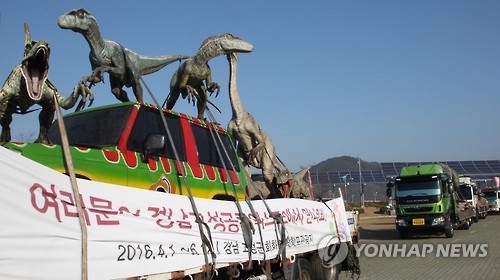 GOSEONG, March 4 (Korea Bizwire) – With the opening date of the World Dinosaur Expo approaching, the city of Goseong is busy preparing for the event. A total of 18 dinosaur figures and five props that were exhibited at KINTEX in Ilsan, Gyeonggi Province were recently brought to the site of the event.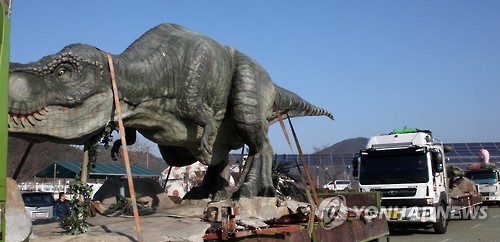 The dinosaurs were transported using 12 trucks and trailers, and drones mounted with cameras filmed the entire process. Tyrannosaurus Rex, Triceratops, and Kate, a giant dinosaur skull returned home after their two-month visit to KINTEX.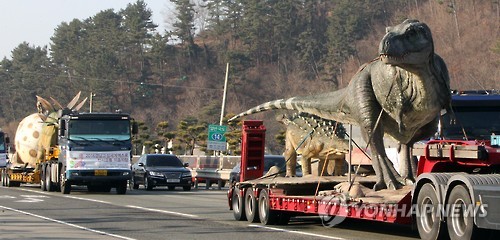 The drive back to Goseong itself was an event to be seen. The line of trucks and trailers was 100 meters long. Banners advertising the event were hung on the side of the vehicles transporting the dinosaurs. With the banners, the dinosaurs, and long procession of vehicles, the event seemed to be getting more than its fair share of publicity during the drive home.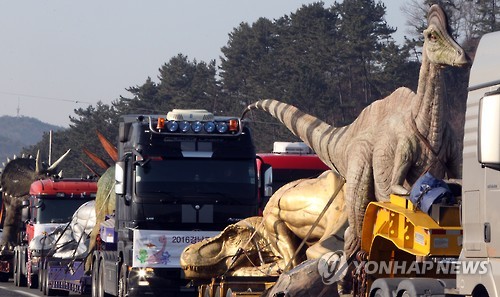 The dinosaurs will be presented to domestic and foreign visitors when the expo opens on April 1. Exhibits are being set up, and tented areas where visitors can rest are being built. A van that will transport tourists around the site is also being decorated, and final touch-ups are being made to 3D screening theaters.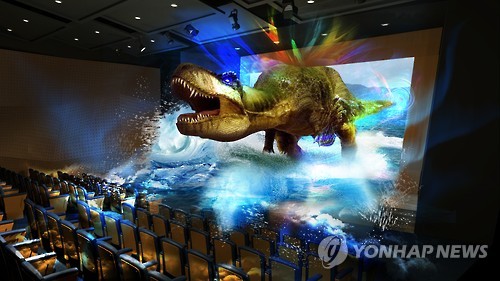 As 'light' has been chosen as the theme of the exhibition, dinosaur lanterns made by Chinese craftspeople will also be presented. A total of 16 large lanterns seven meters tall and 17 meters wide will be set up in the expo area.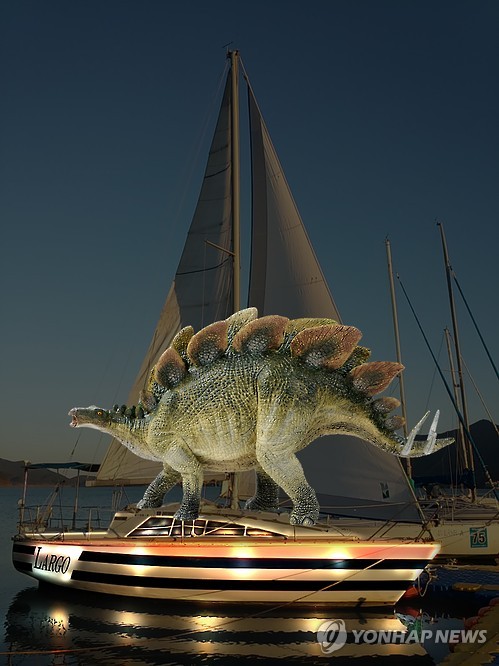 Under the theme 'Dinosaurs, Greet the Future through the Light of Hope', the Goseong World Dinosaur Expo will run from April 1 to June 12.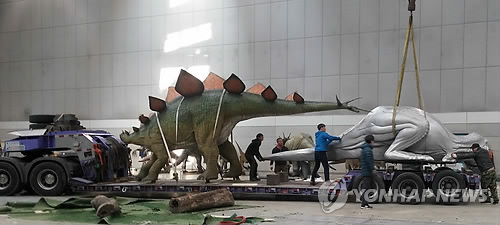 Image Credit: Yonhap / photonews@koreabizwire.com