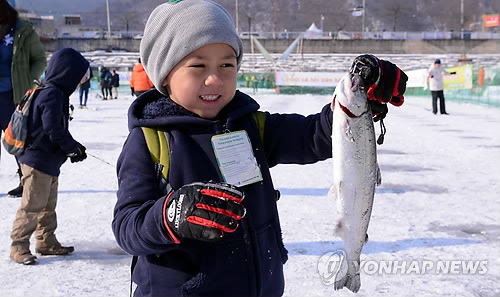 HWACHEON, Korea, Jan. 12 (Korea Bizwire) – The Hwacheon Sancheoneo Festival, a famous ice-fishing festival in Gangwon Province, began with a record high 151,100 visitors on January 10, and drew almost the same number of visitors the following day, totaling more than 300,000 visitors including some 5,000 foreigners in just two days.
Thousands of visitors flocked to the stream and bobbed their fishing lines in and out of some 14,000 holes drilled in the frozen river to catch sancheoneo, a type of mountain trout. Some festival-goers jumped into an icy-cold pool to catch fish with their bare hands. Apart from the ice fishing, the festival offers 60 other programs and activities, including mass fishing and sleigh riding.
A festival official said, "All visitors can make unforgettable memories with family and friends here at Sancheoneo Ice Festival." The winter festival will run through February 1.
Image Credit: Yonhap / photonews@koreabizwire.com